AACI Remembers is a project of AACI which honors the memory of individuals from English-speaking countries or members of AACI who have died in service or as victims of terror.
AACI's rich history of honoring these individuals began in 1967 and includes gathering information and stories about each of them.
We have now digitized these resources to greatly expand the opportunity of those around the world to learn about and remember those who died.
This website can be used in many ways such as using the search bar to connect to a specific person or to find those from your hometown.
Groups can inquire about visits to the AACI Memorial Site, or about a group project by writing to projects@aaci.org.il
Each year we join together as a community to remember and honor the fallen with shared memories and thoughts in a moving tribute.
Remembering and honoring each individual has special meaning for our community; our strong commitment to the people of Israel is a vital part of our identity.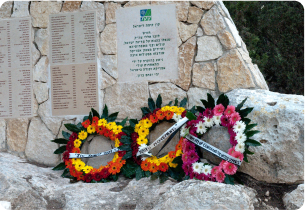 Our speaker's bureau includes family members and friends of those who fell. Groups can hear about specific individuals, and about the contribution of English speakers to Israel.